FAQs
RETURNS
Sorry it didn't work out. It happens. We got your back.
In Store Purchases:
If you purchase an item at our store location, our store policies apply. For in-store purchases we will accept exchanges or returns for refund on your original form of payment only within 7 days of purchase. After 7 days and before 14 days we're happy to give you a store credit.  After 14 days, we will not accept your return.  The returned merchandise must be free from wear, stains, odor or any condition that would prevent them from being sold as new. Returned items must have the original tags attached.
For Call-to-order purchases shipped to you:
We offer you the option of exchange, refund or store credit on most full price call-to-order orders. Try your purchases on in the comfort of your own home and if you need to send them back, you have 7 days from the date you received your order to exchange or return your order for a full refund.  
Returns  postmarked within 7 days of initial delivery will be credited to the original form of payment.  After 7 days but prior to 14 days we will issue you a store credit that can be used in the store or for call-to-order.  After 14 days no returns will be accepted.  Original shipping charges and any duties and taxes you paid for your parcel are non-refundable.
Shoes should be test-driven on a rug or carpeting because we will not accept shoes returned with worn soles.  When returning shoes, please include the original, unused shoebox in original condition or the return will be denied.
Returned items must have the original tags attached, and must be accompanied with a copy of the receipt.  The returned merchandise must be free from wear, stains, odor or any condition  that would prevent the item from being sold as new.  Returns that do not meet our policy will not be accepted and will be sent back to the customer.  Please contact our customer service by emailing secrethandshake@shopcanoeclub.com if you have any further questions.
Exceptions:
No returns or exchanges are accepted on sale merchandise.
We do not accept returns or exchanges on magazines, books, apothecary, or undergarments.
EXCHANGES:
For exchanges, please note the name, size and price of the item you'd like to exchange for. You can also email us at secrethandshake@shopcanoeclub.com for recommendations or to place a temporary hold on your exchange item.
Sending in your return:  
To complete your return, we require a receipt or proof of purchase.  Please allow up to a week for your return to be processed once it's received at our warehouse. Canoe Club does not assume responsibility for reimbursement or compensation of returned packages lost in transit without proof of delivery to Canoe Club. Risk of loss and title for goods purchased from Canoe Club pass to you upon delivery of goods to the carrier. You are responsible for filing any claims with your carrier for any lost or damaged shipments. Merchandise purchased online can also be returned to our store. If you use your preferred carrier at your own cost, you can mail return items to:
Canoe Club Attn: Returns 777 Pearl Street Boulder, CO 80302  
Cancellations:
If there is an issue with your purchase after you've made your purchase please email us at secrethandshake@shopcanoeclub.com. If your order has not shipped, you may cancel your purchase:
If made prior to 1pm MST, up until 3pm MST the same day, or
If made after 1pm MST, up until 3pm MST the following business day.
Denim Repair
HEMMING DENIM TO A PROPER INSEAM LENGTH
Meet your best friend for the first time.  We believe that you should start with a pair of jeans the way you prefer.  They should feel right every time you look down.  If you want your jeans to know the length of your legs, we offer a one-time free hemming for any jeans you buy at Canoe Club.  For our customers visiting our brick and mortar, you can be measured the day you've committed to a new pair.   If you prefer to wear them for a bit first, we can wait, just hold onto your receipt and bring them back when the time is right.
We do all our hemming on a Union Special 43200g.  This machine, also known as "The Bulldog," was manufactured in 1939 and was the premiere Edge Lock hemming machine. This is the machine responsible for the distinct roping look of classic American denim. This small detail, which was originally a fault in the hook timing, became the recognizable standard of American denim and made the machine sought after worldwide.  It's cool, and it's a detail of value and quality we want to share with you.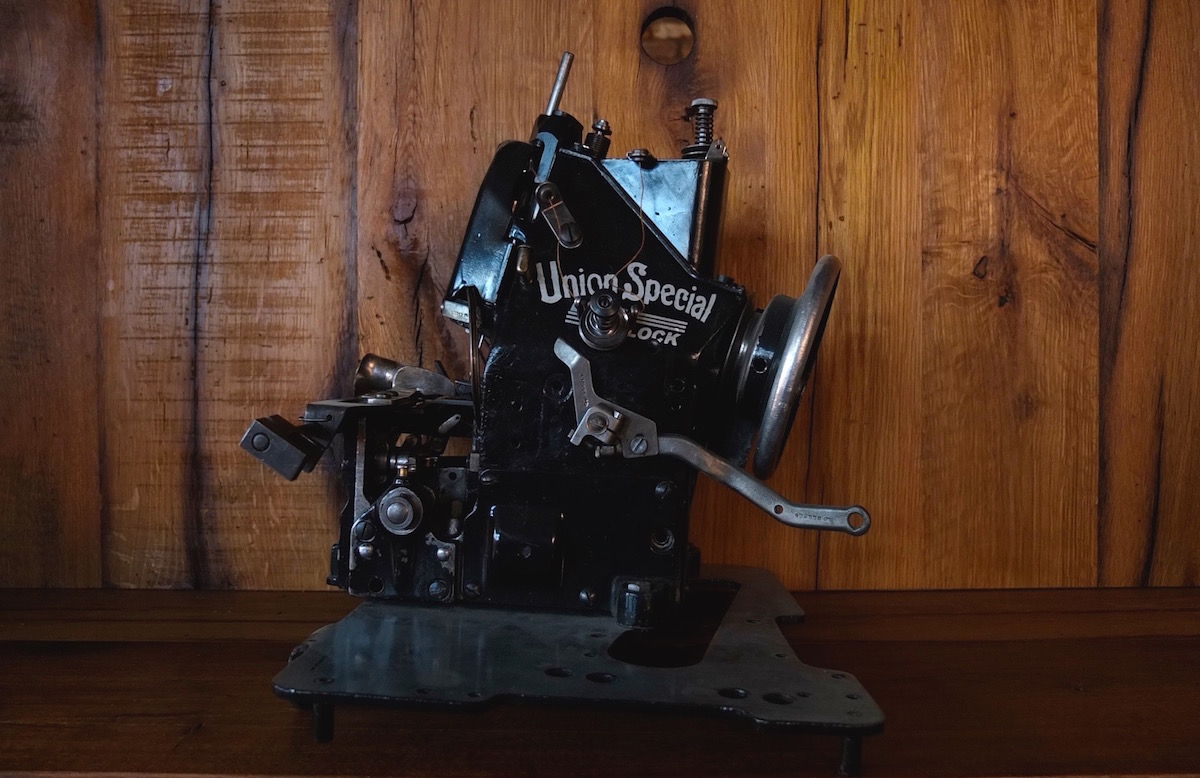 OTHER DENIM REPAIRS
Your jeans are a diary of work and play.  Folded into the creases of your go-to pair is the poetry of labor and the good memories that bring daydreams.  We get it; some of our best friends have been pairs of jeans.  We've partnered with Indigo Proof to give you more time together.  She does the best denim repairs we've ever seen, making holes and blowouts seem like mere pencil marks that need an eraser.  She makes nearly-invisible repairs that will prepare your jeans for a future you can spend together.  We encourage you to go to the Indigo Proof site to see the gallery of before and after pictures that prove the quality of her work.  She is an artist.
Please note that Indigo Proof requires that jeans arrive washed.  If you fail to send in clean jeans, they will be washed before repair for an additional $10.
Cost varies but requires a $50 deposit.  After the damage is evaluated your cost will be determined.  
Average Turnaround: 3 weeks (you will be advised of your precise turnaround time when you bring in your jeans).